New to Antinol®️?
Today could be the the first day of your pets' journey to living a life with minimal joint discomfort. Check out more about AntinolⓇ and order from us to see optimal results in the shortest possible time:
Importance of the first 14 days - Double the capsules
Trusted Partners
Helping animals stay at their personal best longer.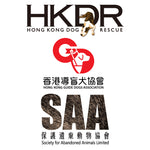 Hong Kong Dog Rescue (HKDR)
Hong Kong Guide Dogs Association (HKGDA)
Society for Abandoned Animals (SAA)
Learn more Antinol® has partnered with a number of animal organizations in Hong Kong.
We aim to pass an additional 5% saving to their members and community.
5% Affiliate partner saving
Being better. Naturally.
Antinol® is a super potent natural joint + wellness supplement that is changing dog's and cat's lives for the better. Each tiny softgel is made from a patented blend of marine lipid oils that are fully traceable, sustainably sourced and free from preservatives and fillers.
Use daily for joint and mobility support, as well as a wellness + preventative for those looking to be proactive about their pet's health.
Natural
potent + patented concentrated formula
20+
peer-reviewed journals
15-18
green-lipped mussels in each capsule
Sustainable
Sourcing + farming from NZ
Trusted by Pet Parents Worldwide
*Trustpilot testimonials are for informational purposes only. The information is not a substitute for expert veterinary care. Testimonials are written by actual customers and represent their own observations. These observations are not guaranteed, are not medically substantiated, and may not be typical for other pets.
FAQ's
Vetz Petz®︎ Antinol®︎ is a powerful joint health supplement that is a naturally occurring blend of six marine lipid groups including Omega 3, ETA, EPA, DHA, DPA OTA and over 90 beneficial fatty acids with no known serious side effects.

Where is Antinol® manufactured?

Antinol®︎ is manufactured in the pristine waters of the Marlborough Sounds, New Zealand, from all natural products.

Does Antinol® have any side effects or allergic reactions?

Antinol®︎ is safe for long-term daily use.

- No known serious side effects

- Not allergically reactive

- No known contraindications with other medications

- Natural

- Fast-acting

- Studies have shown that Antinol can be used successfully with the leading NSAID's

Are there any discounts available?

When you tailor your plan, you can save 5% on each order and receive free shipping on orders over $500.  Every year you'll be receiving the equivalent of one month's amount for free! You decide the delivery schedule that works for you and have peace of mind knowing there's no obligation or cancellation fees.

How long before I can expect to see differences in my pet?

More than 90% of dogs showed clinically significant differences in as little as 10-14 days after taking Antinol®︎. To get the maximum benefit, make sure you give your pet double the amount of softgels for the first 14 days (or as recommended by your vet), and allow 4-6 weeks of continual usage.
Learn the Signs of Joint Discomfort
Get Educated. Learn about the triggers of age-related mobility.